Porsche Cayman GT4 Photo at Spa
Finishes
Photo printing + Acrylic glass
Acrylic glass, glossy, 2 mm / Brand photo paper & permanently elastic silicone / Stable aluminum Dibond back panel
Printing on alu Dibond
Matte surface / Polyethylene core
Rear of aluminum plate
Canvas Print
Linen structure
Matte surface
Real Photo Print on aluminum Dibond
"Kodak Pro Endura" print / contrasting colors / bright highlights / Aluminum back plate
Description
Print and Porsche Cayman GT4 Photo
Here is a superb Porsche Cayman GT4 Photo available in limited edition. This one will give the touch of black and white that it takes for your interior!
A little more informations about the Porsche Cayman GT4 Photo
First, we are back in the footsteps of our debut with Cars and Roses. Direction the legendary circuit of Spa-Francorschamps. We went there for a private event on the circuit.
In addition, we also did a few laps on the circuit but weather conditions last weekend did not help us.
Second, I had always wanted to photograph a car in an F1 boxes circuit but it is not easy because they are often busy and there is always someone or something in the background.
To conclude, We had a little luck this weekend. There was this beautiful Porsche Cayman GT4 Red parked in one of the boxes. And you know what ? No one around for once.
This Porsche Cayman GT4 Photo will perfectly decorate your wall. The photograph is printed at 200 copies, by size and medium.
*this photograph is available in limited edition for the acrylic and aluminium printing only.
Work Title: "Red Beast at Spa"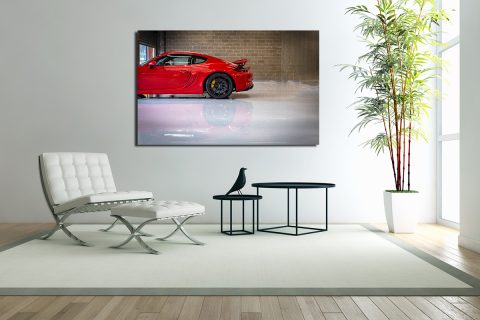 Visit the online shop