911 R Porsche Photograph
Finishes
Photo printing + Acrylic glass
Acrylic glass, glossy, 2 mm / Brand photo paper & permanently elastic silicone / Stable aluminum Dibond back panel
Printing on alu Dibond
Matte surface / Polyethylene core
Rear of aluminum plate
Canvas Print
Linen structure
Matte surface
Real Photo Print on aluminum Dibond
"Kodak Pro Endura" print / contrasting colors / bright highlights / Aluminum back plate
Description
Prints and 911 R Porsche Photograph
Here is a nice 911 R Porsche Photograph. I was lucky last week when a friend of mine asked me to photograph his latest gem, or rather, his latest "monster" The 911-R. Before we begin our photo shoot, I got a little trip on our beautiful Walloon Brabant country roads. Indeed, I was able to enjoy and experience this beautiful mechanics as a passenger.
Second, we found a spot in Ronquières (Belgium) for this photo shoot. This corner here was very nice although I did not know. We took several shot of this 911-R including one on an old bridge, the other in the forest as well as at the entrance of a tunnel. And many more.
Finally, I wanted to present here a rather unusual shot of this 911-R. So we put the car on a bridge Ronquières. I climbed the arch of it to photograph the car with a little height. And here is the result, all accompanied by a beautiful light on the road and on the left flank of the car.
This 911 R Porsche Photograph will decorate your wall perfectly.
*this photograph is available in limited edition for the acrylic and aluminium printing only.
Work Title
: ""
R" On The Bridge
"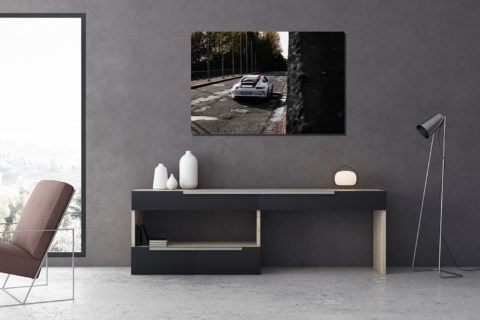 Visit the online shop