911 R Porsche Photo Print
Finishes
Photo printing + Acrylic glass
Acrylic glass, glossy, 2 mm / Brand photo paper & permanently elastic silicone / Stable aluminum Dibond back panel
Printing on alu Dibond
Matte surface / Polyethylene core
Rear of aluminum plate
Canvas Print
Linen structure
Matte surface
Real Photo Print on aluminum Dibond
"Kodak Pro Endura" print / contrasting colors / bright highlights / Aluminum back plate
Description
Framed Picture and 911 R Porsche Photo Print
Here is a nice 911 R Porsche Photo Print. Few months ago, a friend of mine propose me to photograph his last jewel. A 911-R Porsche. A best, if I can say things like that 🙂
More informations about the 911 R Porsche Photo Print
First, we left home to start our little ballad of the weekend. We took some small roads from the Walloon Brabant. Nothing better than these small winding roads to test the machine. My opinion, a great toy, very efficient, beautiful mechanics and an extraordinary noise.
Secondly, we went to Ronquières (Belgium) for this photo shoot. You have already seen another photograph I made, on an old bridge with a view a little high.
To finish, I wanted to propose a cliché a little more original. The photograph was taken under the inclined planes of Ronquières. Laurent placed the car right in front of the puddles so that I could have a car reflection on it to give "THE" little touch to the picture.
This 911 R Porsche Photo Print will decorate your wall perfectly.
*this photograph is available in limited edition for the acrylic and aluminium printing only.
Work Title
: "911-R Reflection
"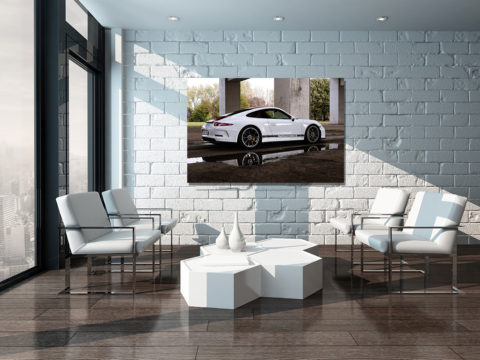 Visit the online shop