Carrera 911 RSR Porsche Photograph
Finishes
Photo printing + Acrylic glass
Acrylic glass, glossy, 2 mm / Brand photo paper & permanently elastic silicone / Stable aluminum Dibond back panel
Printing on alu Dibond
Matte surface / Polyethylene core
Rear of aluminum plate
Canvas Print
Linen structure
Matte surface
Real Photo Print on aluminum Dibond
"Kodak Pro Endura" print / contrasting colors / bright highlights / Aluminum back plate
Description
Print and Carrera 911 RSR Porsche Photograph
Here is a superb Carrera 911 RSR Porsche Photograph. I took this picture during a Porsche Day's organized on the circuit of Spa Francorchamps. It was one of the first "photo" releases of Cars and Roses.
More information on this Carrera 911 RSR Porsche Photograph

First we were at the exit of the Pits Lanes in order to take a few shots of the cars that relaunched on the circuit after a stop in the boxes. I was fortunate enough to have photographed a Porsche 911 Carrera RS for a first photo trip, it is not the kind of car that we meet every day.
Secondly, we had positioned ourselves at the end of the pits in order to have a cliché with the back of the car, the green light and a tip of the raidillon.
To finish, I decided to edit this photograph to give it an "old school" style. So I wanted to use colors a bit warm, sepia style for this picture.
This Porsche 911 Carrera RSR Photograph will perfectly decorate your wall. The photograph is printed at 200 copies, by size and medium. Let your passion invade your interior.
* This image is sold as a limited edition only for prints on acrylic and aluminum.
*this photograph is available in limited edition for the acrylic and aluminium printing only.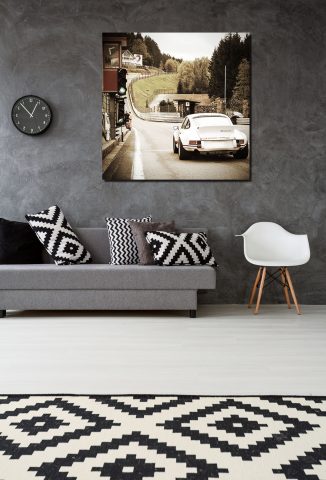 Visit the online shop