Modern Car Prints Porsche GT4
Finishes
Photo printing + Acrylic glass
Acrylic glass, glossy, 2 mm / Brand photo paper & permanently elastic silicone / Stable aluminum Dibond back panel
Printing on alu Dibond
Matte surface / Polyethylene core
Rear of aluminum plate
Canvas Print
Linen structure
Matte surface
Real Photo Print on aluminum Dibond
"Kodak Pro Endura" print / contrasting colors / bright highlights / Aluminum back plate
Description
Photograph and Modern Car Prints Porsche GT4
Here is a nice Modern Car Prints Porsche GT4. As Promised before, here is a second photograph of the Porsche Cayman GT4 that we had the chance to drive with this week. She's not lonely here, She's with a Blue 964 Porsche Carrera RS. Love the contrast here between the two cars because they are so different as per the model than the characteristics. But anyway, I find they go together well! To accentuate the aggressiveness of the photograph I wanted to play with the dark of the sky and the ground, so here we are with the result.  This Modern Car Prints Porsche GT4 will decorate your wall perfectly.
Work title: "964 & GT4"
*this photograph is available in limited edition for the acrylic and aluminium printing only.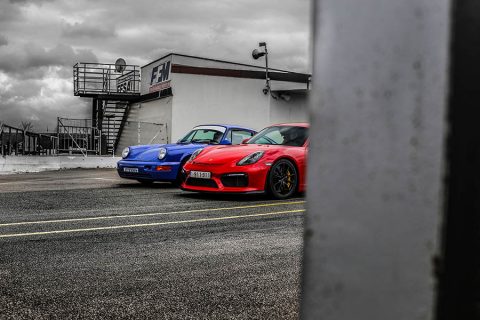 Visit the online shop