AC Cobra Wall Print
Finishes
Photo printing + Acrylic glass
Acrylic glass, glossy, 2 mm / Brand photo paper & permanently elastic silicone / Stable aluminum Dibond back panel
Printing on alu Dibond
Matte surface / Polyethylene core
Rear of aluminum plate
Canvas Print
Linen structure
Matte surface
Real Photo Print on aluminum Dibond
"Kodak Pro Endura" print / contrasting colors / bright highlights / Aluminum back plate
Description
Photograph and AC Cobra Wall Print
Here is a nice AC Cobra Wall Print. I shot this image during the six our Classic of Spa Francorchamps. Cars came one by one on the pit lane to start the first round.
More informations about the AC Cobra Wall Print
First, I wanted to offer you this image in a slightly old-style, cold, blue. Hence the work on color photography. First, I like it very much because this picture, the image orientation is quite original and then we can see the hood of both cars in the extension. Then I think it's quite nice duo because the Shelby Cobra and the Ford GT40 form a nice duo.
Finally, being a big fan of American cars, I wanted to inform you that we recently wrote an article about the Ford GT40. It speaks of its history! You can find it on our blog at: http://www.carsandroses.fr/ford-gt40-belle-mecanique-a-126-exemplaires/. And who knows, one day maybe we'll write an article about a Shelby Cobra ?!
This AC Cobra Wall Print will decorate your wall perfectly.
*this photograph is available in limited edition for the acrylic and aluminium printing only.
Work Title: "American Duet"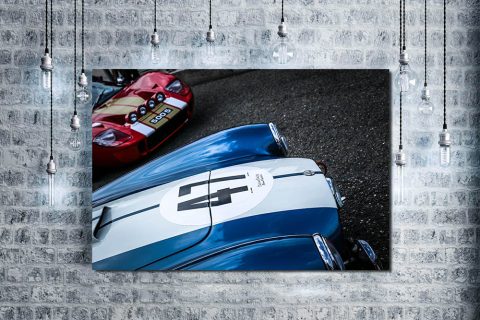 Visit the online shop