E-Type Jaguar Photograph
Finishes
Photo printing + Acrylic glass
Acrylic glass, glossy, 2 mm / Brand photo paper & permanently elastic silicone / Stable aluminum Dibond back panel
Printing on alu Dibond
Matte surface / Polyethylene core
Rear of aluminum plate
Canvas Print
Linen structure
Matte surface
Real Photo Print on aluminum Dibond
"Kodak Pro Endura" print / contrasting colors / bright highlights / Aluminum back plate
Description
Prints and E-Type Jaguar Photograph
Here is a nice E-Type Jaguar Photograph. I took this amazing photograph during the 6 our Classic of Spa Francorchamps. The cars were stopped in the Pit Lanes before the race starts. 
More informations about the E-type Jaguar Photograph
First, I wanted to offer you this image in a slightly old-style cold. Hence the work on color photography. So you can see here in the foreground, the back of a Jaguar E-Type and as well as the background, in red, a Ford Mustang.
Finally, I want to remind you that we have recently written an article on the Jaguar E-type (E-type). This is available on our blog Cars and Roses. We speak of the model in general and of its evolution and the different phases that the car has "suffered".
You can ready our article in french version here: http://www.carsandroses.fr/histoire-dune-belle-anglaise-jaguar-type-e/
This E-Type Jaguar Photograph will decorate your wall perfectly.
*this photograph is available in limited edition for the acrylic and aluminium printing only.
Work Title: "E-Type A**"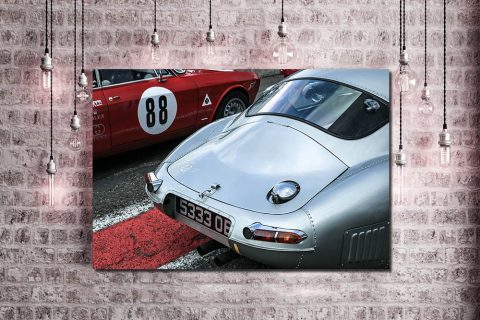 Visit the online shop