Interior Decoration Porsche Photograph
Finishes
Photo printing + Acrylic glass
Acrylic glass, glossy, 2 mm / Brand photo paper & permanently elastic silicone / Stable aluminum Dibond back panel
Printing on alu Dibond
Matte surface / Polyethylene core
Rear of aluminum plate
Canvas Print
Linen structure
Matte surface
Real Photo Print on aluminum Dibond
"Kodak Pro Endura" print / contrasting colors / bright highlights / Aluminum back plate
Description
Car Prints and Interior Decoration Porsche Photograph
Here is a superb Interior Decoration Porsche Photograph available in limited edition. This one will give a nice old school touch to your interior
First, I photographed this trio of Porsche Carrera during an outing on the circuit of Spa Francorchamps with a Porsche club.
Second, it is rather rare to have the opportunity to see this kind of car gathered together in the same places. I think it's great to have a picture of this trio of mythical Porsche 911. Well aligned with in the background, the bleachers of the circuit.
Finally, I found that the style of photo a little 'old-fashioned' missed the range Cars and Roses. Since the Porsche 911 photographed were not very young, I found it rather nice to give a slightly old / cold style to the photograph. So I decided to work it that way.
This Interior Decoration Porsche Photograph will perfectly decorate your wall. The photograph is printed at 200 copies, by size and support.
*this photograph is available in limited edition for the acrylic and aluminium printing only.
Work Title: "Old School Porsche's"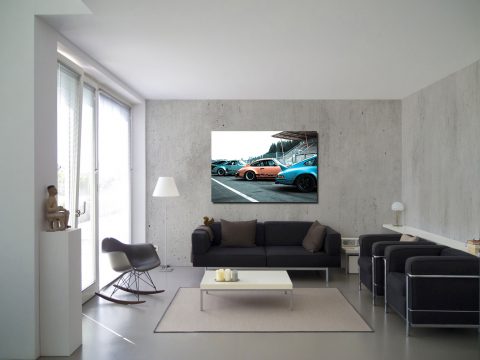 Visit the online shop