BMW 3.0 CSL Photograph
Finishes
Photo printing + Acrylic glass
Acrylic glass, glossy, 2 mm / Brand photo paper & permanently elastic silicone / Stable aluminum Dibond back panel
Printing on alu Dibond
Matte surface / Polyethylene core
Rear of aluminum plate
Canvas Print
Linen structure
Matte surface
Real Photo Print on aluminum Dibond
"Kodak Pro Endura" print / contrasting colors / bright highlights / Aluminum back plate
Description
BMW 3.0 CSL Photograph
Firstly, the BMW CSL is one of the first cars designed for racing (at BMW). The car group was at the time a place in the European Championship of passenger cars.

Then, there were several models of CSL, the first being equipped with a 6 cylinder engine, 3L giving 180 horses. It is presented in Geneva in 1971.

The main goal of the CSL models was to reduce the weight of the vehicle. Indeed, the basic E9 weighs 1450kg.

Finally, in 1972, a year after the 3L engine rose from 180 to 200 horses. The production of this model was 929 copies.
To finish, the BMW 3.0 CSL gets a new engine in 1972, a 3.2L bringing 206 horsepower to the car. There were 167 copies.
This BMW 3.0 CSL Photograph is available in limited edition for brushed aluminium and behind acrylic glass printing.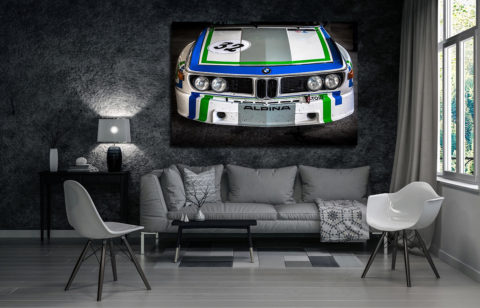 For More Prints
Visit our shop