The Shinning Star – Porsche 911 Carrera RS 2.7L
Here is a new article written by my friend Constantin P. for Cars and Roses. I asked him to write something about a car we both like, The 2.7L Carrera RS, The mission was successfully accomplished.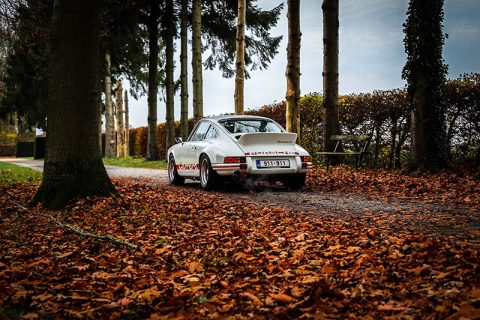 "Fall 2.7"
A Cars and Roses's photograph available in limited edition. You may configure this one here: http://www.carsandroses.com/shop/porsche-carrera-rs-photograph/
"
My dear friend,
I accept this mission, writing an article for your blog.
I took the heavy decision to attack the one that makes me the most vibrating, and paradoxically, I chose one of the lightest 911. RS 2.7L has reached a peak that no other 911 will reach.
And for me, this is the best 911 in history. It marked the culmination of a bygone era, where no one really cared about consumption problems, and where no one was bothering us with ecological problems. It embodies this spirit, free, evolutionary …
This symbol of freedom that ended up exploding all the hearts of the enthusiasts. So if after forty years I speak to you about the 2.7RS, it is that unconditionally we combine it with past, present and future …
But especially at the most perfect. So for this first article I will not list all the details that differentiate a 2.7RS TOURING from a LIGHT.
But only tell you that there were 1331 version TOURING, 200 Light and 49 RSR. Because, yes, there were 1580 copies and 10 other copies were used as test cars. And why not tell you everything?
Because if I tell you everything, I will pass for a crazy guy, which honestly does not displease me … But right, a real Light is supposed to be equipped with thinner rear side windows, whose surroundings is slightly different. And there, of course, is the engraving of the manufacturer, Graverbel.
Do we ever know, if tomorrow you met a guy in 2.7RS Light, check that it is an authentic. Moreover the rear side windows are only open on the Touring version, it is an option. I will stop there, because even if these details are known by the most savvy enthusiasts, tell you that the rear window of the Touring is a bit thicker to benefit from defrosting, you will not believe me.
I will tell you that I am just passionate. In this passion I have never made excesses; Just some speeding. And often, when I feed this passion I often go beyond the details … Moreover, more often than not, the one that surpasses me rolls in 911.
C.P.
"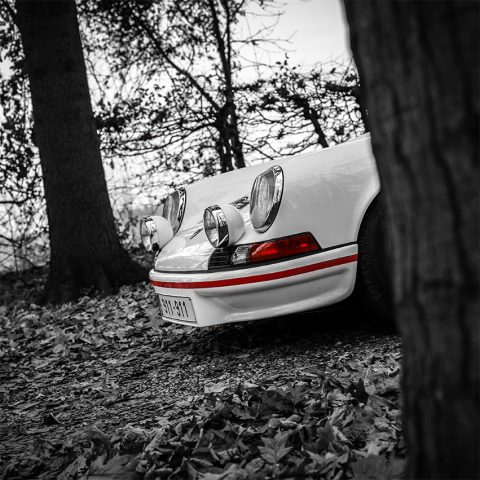 "2.7 Face"
Here is another one of Cars and Roses. We photograph the face of a 2.7L 911 Porsche. You may configure this image here: http://www.carsandroses.com/shop/wall-photo-print-911-porsche/