Porsche GT4 Photographs
Finishes
Photo printing + Acrylic glass
Acrylic glass, glossy, 2 mm / Brand photo paper & permanently elastic silicone / Stable aluminum Dibond back panel
Printing on alu Dibond
Matte surface / Polyethylene core
Rear of aluminum plate
Canvas Print
Linen structure
Matte surface
Real Photo Print on aluminum Dibond
"Kodak Pro Endura" print / contrasting colors / bright highlights / Aluminum back plate
Description
Prints and Porsche GT4 Photographs
Here is a nice Porsche GT4 Photographs. We planned to do a photo shooting with this wonderful Porsche Cayman GT4. We went last year at Doel to photograph a Blue Porsche Boxster and we loved the city. So, I wanted to go back there with this "red thing". I was thinking that the contrast between that modern car and this old abandoned town would be amazing.
Indeed. I knew the place, so before arriving there I knew exactly what I wanted to do and where I wanted to park the car to make photographs.
This lost street attracted me and I wanted to shoot the Red Porsche Cayman GT4 there! I love the contrast between this modern car and the abandoned houses. As you can see, I've forced the marks and the ground to make more contrast and i've put the whole image in black and white except the car.
This Porsche GT4 Photographs will decorate your wall perfectly.
*this photograph is available in limited edition for the acrylic and aluminium printing only.
Work Title: "Red at Doel"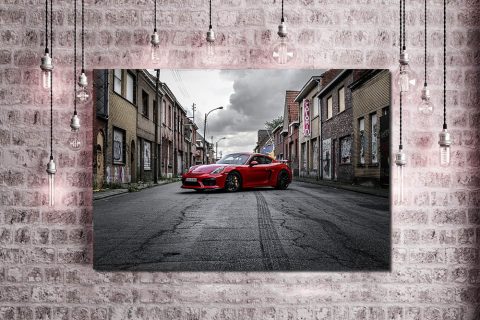 Visit the online shop