Porsche Carrera RS Photograph
Finishes
Photo printing + Acrylic glass
Acrylic glass, glossy, 2 mm / Brand photo paper & permanently elastic silicone / Stable aluminum Dibond back panel
Printing on alu Dibond
Matte surface / Polyethylene core
Rear of aluminum plate
Canvas Print
Linen structure
Matte surface
Real Photo Print on aluminum Dibond
"Kodak Pro Endura" print / contrasting colors / bright highlights / Aluminum back plate
Description
Prints and Porsche Carrera RS Photograph
Here is a nice Porsche Carrera RS Photograph. I took this photograph at the "The 9-11 Rally" wonderfully organized by the Toproad's team.
More informations about the Porsche Carrera RS Photograph
First, I photographed the Porsche Carrera RS of my friend Laurent during his Toproad rally organized in the region of Namur, Belgium.
Secondly, near places of of the meeting, there was this beautiful little driveway with trees on each side. The place was great for doing this little shooting. Who says autumn says dead leaves on the ground. I find that the decoration harmonizes rather well with this Porsche Carrera RS.
To finish, the colors autumn marries extremely well with the touch of red on the car.
This Porsche Carrera RS Photograph will decorate your wall perfectly
*this photograph is available in limited edition for the acrylic and aluminium printing only.
Work Title: "Fall 2.7"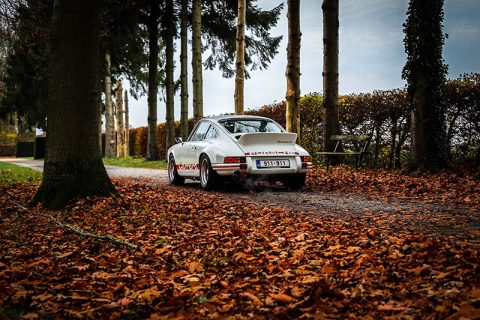 Visit the online shop