Decorative Photograph Porsche Targa
Finishes
Photo printing + Acrylic glass
Acrylic glass, glossy, 2 mm / Brand photo paper & permanently elastic silicone / Stable aluminum Dibond back panel
Printing on alu Dibond
Matte surface / Polyethylene core
Rear of aluminum plate
Canvas Print
Linen structure
Matte surface
Real Photo Print on aluminum Dibond
"Kodak Pro Endura" print / contrasting colors / bright highlights / Aluminum back plate
Description
Canvas and Decorative Photograph Porsche Targa
Here is a nice Decorative Photograph Porsche Targa. Targa, my favorite old Porsche… We were invited at this Porsche Rally to expose our work. Those Targa's were parked in line outside and I wanted to photograph them so much. I didn't want to do a simple shot, there was this tree next to the cars and I saw this empty space so it was the opportunity to capture those 3 Porsche Targa's in an original way.  This Decorative Photograph Porsche Targa will decorate your wall perfectly.
Work title: "Under the tree"
*this photograph is available in limited edition for the acrylic and aluminium printing only.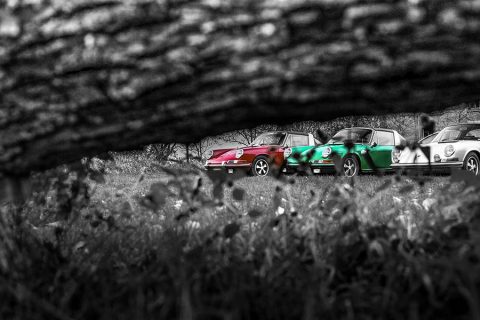 Visit the online shop