Cayman GT4 Photograph
Finishes
Photo printing + Acrylic glass
Acrylic glass, glossy, 2 mm / Brand photo paper & permanently elastic silicone / Stable aluminum Dibond back panel
Printing on alu Dibond
Matte surface / Polyethylene core
Rear of aluminum plate
Canvas Print
Linen structure
Matte surface
Real Photo Print on aluminum Dibond
"Kodak Pro Endura" print / contrasting colors / bright highlights / Aluminum back plate
Description
Prints and Cayman GT4 Photograph
Here is a nice Cayman GT4 Photograph.We are back in Doel, Belgium. This time we were contacted by the owner of a Porsche Cayman GT4 Bleue, great color. 
Usually, the photographs taken during private shooting are designed specifically for the car owner. Here I could not help but ask his consent to use this beautiful photograph taken in the abandoned streets of Doel, a village located near Antwerp, next to the nuclear stations.
First, so we drove an hour to get to this remote village. The idea for the shoot was quite simple. Photographing a contemporary sports car in a macabre decoration. I personally find that the contrast is quite nice!
Second, we've placed the car in a main street in order to have an overview on the various fronts. namely that the village is not big at all, it has 5-6 streets if I remember correctly.
Finally, I wanted to work this photograph so that it is the most "creepy" as possible. The idea was to keep the true color of the car and thus to desaturate a little color buildings to accentuate the contrast. The weather was quite cloudy, but a beautiful light was present. So we had right has a beautiful light on the car and on the road. Since the tags on the walls were not very colorful, I did not want to play with colors and therefore leaves this rather gloomy picture.
This Cayman GT4 Photograph will decorate your wall perfectly.
*this photograph is available in limited edition for the acrylic and aluminium printing only.
Work Title
: "
Ghost GT4
"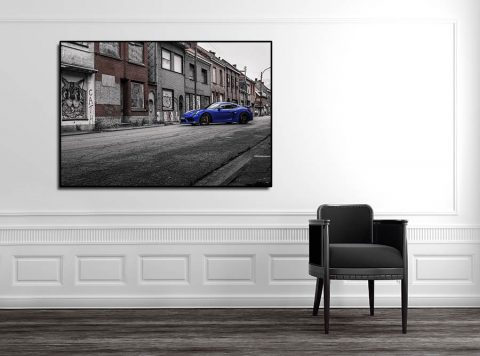 Visit the online shop