911 R Porsche Photograph – Ronquieres Bridge
Finishes
Photo printing + Acrylic glass
Acrylic glass, glossy, 2 mm / Brand photo paper & permanently elastic silicone / Stable aluminum Dibond back panel
Printing on alu Dibond
Matte surface / Polyethylene core
Rear of aluminum plate
Canvas Print
Linen structure
Matte surface
Real Photo Print on aluminum Dibond
"Kodak Pro Endura" print / contrasting colors / bright highlights / Aluminum back plate
Description
Framed Picture and 911 R Porsche Photo Print
Here is a nice 911 R Porsche Photograph. Few months ago, a friend of mine propose me to photograph his last jewel. A 911 R Porsche. 
More informations about the 911 R Porsche Photograph
First, it happened on a Saturday afternoon, the weather was pretty good, fortunately for me :-). We went to Ronquières, Belgium. The idea of ​​my friend Laurent was to photograph the car under the inclined plane. (The inclined plane is a boat lift). This one is maintained by several large blocks of concrete and the idea was thus to place the car between them.
Secondly, after taking a few pictures of the Porsche 911 R, we strolled around and a few kilometers from our first spot was an old bridge. There was a lot of traffic on this one but we still managed to stop the cars pedant a few seconds to make some pictures.
To finish, I wanted to take a little high and so I climb a little climb the arcade of the bridge, hence the stone part on the left of the photo. I love the atmosphere of the picture, we are on an old bridge, with a superb sports car, the Porsche 911-R and a view of the fields. Rather original not?
This 911 R Porsche Photograph will decorate your wall perfectly.
*this photograph is available in limited edition for the acrylic and aluminium printing only.
Work Title
: "R'n'Bridge
"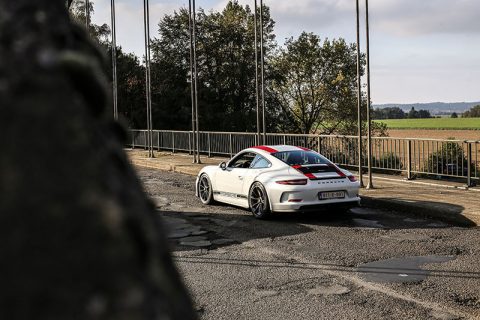 Visit the online shop