911 Porsche Photograph
Finishes
Photo printing + Acrylic glass
Acrylic glass, glossy, 2 mm / Brand photo paper & permanently elastic silicone / Stable aluminum Dibond back panel
Printing on alu Dibond
Matte surface / Polyethylene core
Rear of aluminum plate
Canvas Print
Linen structure
Matte surface
Real Photo Print on aluminum Dibond
"Kodak Pro Endura" print / contrasting colors / bright highlights / Aluminum back plate
Description
Prints and 911 Porsche Photograph
Here is a nice 911 Porsche Photograph. I took this photograph during an outing on track with a Porsche club. Nothing more classic, you can find here one of the first Porsche 911. This one is completely restored both inside and out.
More informations about the 911 Porsche Photograph
First, I wanted to propose you here in this image in black and white to play on the brightness and contrast. Then I personally find that this color goes beautifully with the "old" cars. Also, here there was a beautiful play of light which makes this image even more attractive.
Secondly, I love the scene in this photograph because the car was moving towards the entrance of the circuit. The Porsche 911 had just made his return to the pits to make the tire pressures. Then she re-entered directly on the circuit and that is when we shoot the car.
Finally, I wanted to inform you that we recently wrote an article on the "911". It takes almost all the basic information about the history of the first Porsche 911. You can find our article on our french blog here http://www.carsandroses.fr/la-porsche-911-une-revolution/
This 911 Porsche Photograph will decorate your wall perfectly.
*this photograph is available in limited edition for the acrylic and aluminium printing only.
Work Title: "911 on Track"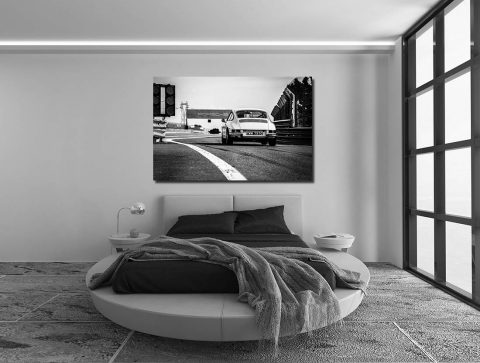 Visit the online shop