911 Porsche Photograph Print
Finishes
Photo printing + Acrylic glass
Acrylic glass, glossy, 2 mm / Brand photo paper & permanently elastic silicone / Stable aluminum Dibond back panel
Printing on alu Dibond
Matte surface / Polyethylene core
Rear of aluminum plate
Canvas Print
Linen structure
Matte surface
Real Photo Print on aluminum Dibond
"Kodak Pro Endura" print / contrasting colors / bright highlights / Aluminum back plate
Description
Framed Picture and 911 Porsche Photograph Print
Here is a superb 911 Porsche Photograph Print available in limited edition. This one will give a nice touch of colour to your interior.
First of all, you have already crossed this photograph. Indeed, it is also available in black and white. I took this shot during my trip to Pebble Beach. There was an exhibition of cars devoted solely to the Porsche and that's where I could shoot these superb 911 Classic well aligned.
Secondly, I find that bringing a little touch of color to a black and white photo is always pretty cool and original. I wanted to do it on this photograph because the colors of cars were combined well. Red, blue and black.
To finish, I thus highlighted these two colors and to bring the last little touch, I also made the rear lights appear.

This 911 Porsche Photograph Print will perfectly decorate your wall. The photograph is printed at 200 copies, by size and support.
*this photograph is available in limited edition for the acrylic and aluminium printing only.
Work Title: "Colours in the 911 Row"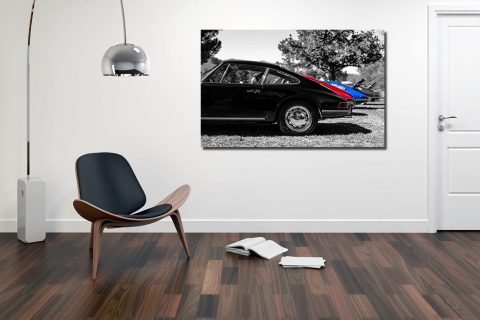 Visit the online shop