330 GTC Ferrari Photograph
Finishes
Photo printing + Acrylic glass
Acrylic glass, glossy, 2 mm / Brand photo paper & permanently elastic silicone / Stable aluminum Dibond back panel
Printing on alu Dibond
Matte surface / Polyethylene core
Rear of aluminum plate
Canvas Print
Linen structure
Matte surface
Real Photo Print on aluminum Dibond
"Kodak Pro Endura" print / contrasting colors / bright highlights / Aluminum back plate
Description
Prints and 330 GTC Ferrari Photograph
Here is a nice 330 GTC Ferrari Photograph. I'm always in love with old car dashboard's photograph. it is very "pure" and each one is unique. Here is one from an old 330 GTC Ferrari from 1968. I took this picture at Pebble Beach. 330's are the models that Ferrari makes after the amazing 250 and the 275. They were built from 1963 to 1968 with some variations. First produced was the 330 America, limited to 50 cars. Then the 330 GT 2+2 were produced between 64 and 67 and the 330 GTC/GTS from 1966 to 1968. GTC's were produced in 598 times and there is 100 GTS's model. Pretty rare!
About this photograph, the idea here was to play a little bit with the light on the steering wheel and on the extreme right of the Ferrari's dashboard.
This 330 GTC Ferrari Photograph will decorate your wall perfectly.
*this photograph is available in limited edition for the acrylic and aluminium printing only.
Work Title: "330 GTC Dashboard"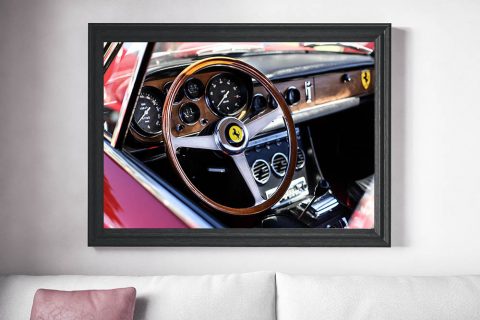 Visit the online shop