Photograph of 911 R Porsche
Our photographs, canvas, posters, prints, car prints, XXL Prints and Car Art are available printed on canvas, acrylic glass and aluminium dibond. You may configure the size and the desired support down here. Decorate you walls with Cars and Roses.
Description
Framed Picture and Photograph of 911 R Porsche
Here is a nice Photograph of 911 R Porsche. Few months ago, a friend of mine propose me to photograph his last jewel. A 911-R Porsche. A best, if I can say things like that 🙂
More informations about the Photograph of 911 R Porsche
First, before the photo session, we drove the small country roads of Brabant Wallon (Belgium) in order to test the car. Ronquières was the final destination, the idea was to photograph the car under the inclined planes. More photos of the Porsche 911-R can be found in our collection.
Secondly, after shooting under the plan and taking a few shots on an old stone bridge not far away, I spotted this great alley / road that had a little deserted. The road was very long, deep, I could not see the end of it! I found it nice to place the car in the middle of the trees.
To finish, I titled this photograph of the Porsche 911 R "Ground R" because I was lying flat belly on the ground taking this shot PS: 15 minutes before, I climbed the frame of the stone bridge in order to have a somewhat aerial view of the Porsche. It is said that every photograph has its history, right?
This Photograph of 911 R Porsche will decorate your wall perfectly.
*this photograph is available in limited edition for the acrylic and aluminium printing only.
Work Title
: "Ground R
"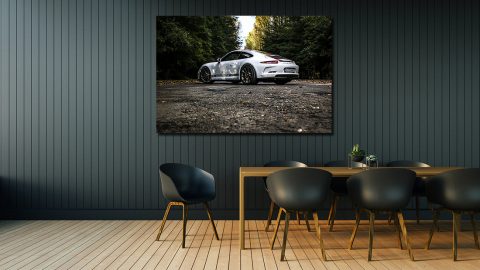 Visit the online shop
Additional information
| | |
| --- | --- |
| Dimensions | N/A |
| Finition | |
| Size | |