Wall Photograph Targa Soft Window
Finishes
Photo printing + Acrylic glass
Acrylic glass, glossy, 2 mm / Brand photo paper & permanently elastic silicone / Stable aluminum Dibond back panel
Printing on alu Dibond
Matte surface / Polyethylene core
Rear of aluminum plate
Canvas Print
Linen structure
Matte surface
Real Photo Print on aluminum Dibond
"Kodak Pro Endura" print / contrasting colors / bright highlights / Aluminum back plate
Description
Prints and Wall Photograph Targa Soft Window
Here is a nice Wall Photograph Targa Soft Window. It has been now 3 years that I'm interested in car event. So in 3 years I've stocked a lot of pictures. I was browsing them yesterday to check if I didn't missed something to work on and in deed, I did forget one. Here is a lovely shot of a Porsche 911 Targa, one of the first model produced, also called "soft window". If you want to learn more about the Porsche Targa, I wrote a small article on the blog of the french website of Cars and Roses; Here is the link: http://www.carsandroses.fr/origine-et-histoire-de-la-porsche-targa/. I always look at the scandal when I work on a photograph and I think that this one is the best I've done lately. I work on the sky to be dark, on the trees to be black, on the car on have this nice blue colour and finally on the center of the photograph to give some lights! This Wall Photograph Targa Soft Window will decorate your wall perfectly. The photograph is limited to 200 copies per size and support and 100 copies for the 180 x 120 CM.
Work title: "Blue Soft Window"
*this photograph is available in limited edition for the under acrylic glass printing only.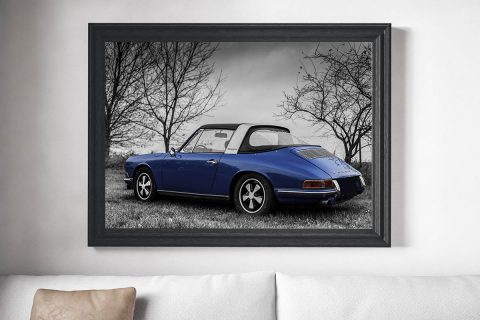 Visit the online shop
Additional information
| | |
| --- | --- |
| Dimensions | N/A |
| Finition | |
| Size | |