Wall Photo Print 911 Porsche
Finishes
Photo printing + Acrylic glass
Acrylic glass, glossy, 2 mm / Brand photo paper & permanently elastic silicone / Stable aluminum Dibond back panel
Printing on alu Dibond
Matte surface / Polyethylene core
Rear of aluminum plate
Canvas Print
Linen structure
Matte surface
Real Photo Print on aluminum Dibond
"Kodak Pro Endura" print / contrasting colors / bright highlights / Aluminum back plate
Description
Print and Yellow Carrera RS Porsche Photograph
Here is a nice Wall Photo Print 911 Porsche. This one will give the "Vintage Touch" to your wall. 
First, here is a photograph of the boss's car, Laurent. It is he who organizes the great rallies to which I am invited. It had kindly proposed me at the time to make some photographs of his 2.7 Carrera RS for Cars and Roses 
Second, We parked the car in a dead leaf, rather nice. The idea here was to photograph the front of the Porsche Carrera RS between the two trees
To finish, I wanted to focus the photograph on the car, not on the autumn color given by the dead leaves. So I decided to pass the photo in black and white and to highlight the small significant red line to the line of the Porsche 911 Carrera RS.
This Yellow Carrera RS Porsche Photograph will decorate your wall perfectly.
Work title: "2.7 Face"
*this photograph is available in limited edition for the acrylic and aluminium printing only.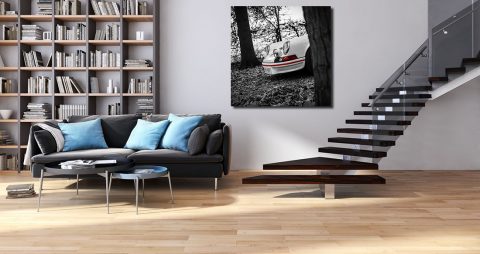 Visit the online shop