Wall Canvas Print Ferrari
Finishes
Photo printing + Acrylic glass
Acrylic glass, glossy, 2 mm / Brand photo paper & permanently elastic silicone / Stable aluminum Dibond back panel
Printing on alu Dibond
Matte surface / Polyethylene core
Rear of aluminum plate
Canvas Print
Linen structure
Matte surface
Real Photo Print on aluminum Dibond
"Kodak Pro Endura" print / contrasting colors / bright highlights / Aluminum back plate
Description
Art and Wall Canvas Print Ferrari
First, I took this photograph during my trip to Pebble Beach. I was walking around the hotel where the most beautiful golf courses of the coast are located. From the automotive events of the corner this week, these hotels were obviously very prized. It was a XXL "garage" of cars.
Second, I shot this image when the owner dropped off his suitcases to the hotel, hence the open door of the car.
Finally, I like the atmosphere of this picture. In addition, in black and white, photography is truly epoch-making. This Wall Canvas Print Ferrari will perfectly decorate your interior.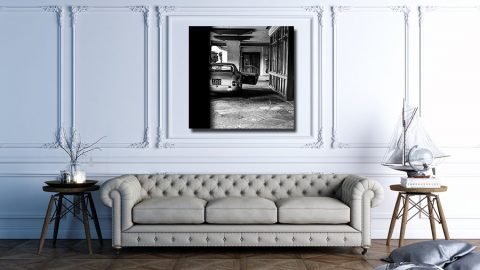 Visit our online shop here