Vintage Photograph Porsche Targa
Finishes
Photo printing + Acrylic glass
Acrylic glass, glossy, 2 mm / Brand photo paper & permanently elastic silicone / Stable aluminum Dibond back panel
Printing on alu Dibond
Matte surface / Polyethylene core
Rear of aluminum plate
Canvas Print
Linen structure
Matte surface
Real Photo Print on aluminum Dibond
"Kodak Pro Endura" print / contrasting colors / bright highlights / Aluminum back plate
Description
Vintage Photograph Porsche Targa
Here is a beautiful Vintage Photo Porsche Targa that will beautifully decorate your home. We reworked this image to give it an autumn moody style.
This Porsche Targa is a "Soft Window", its nickname actually comes from its rear part of the roof which is plastic and detachable. The first versions of the Targa was so, then the glass bubble arrived.
Finally, this photograph is limited to 200 copies per printing and per size and only printed under acrylic glass and aluminum. 
Work Title: "Orange Targa"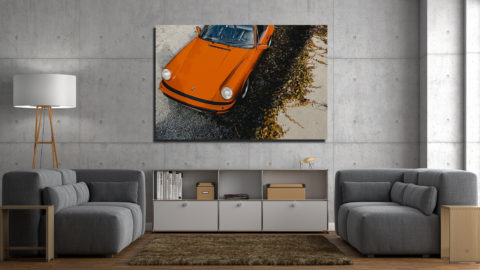 Visit the online shop