Porsche Modern Art
Finishes
Photo printing + Acrylic glass
Acrylic glass, glossy, 2 mm / Brand photo paper & permanently elastic silicone / Stable aluminum Dibond back panel
Printing on alu Dibond
Matte surface / Polyethylene core
Rear of aluminum plate
Canvas Print
Linen structure
Matte surface
Real Photo Print on aluminum Dibond
"Kodak Pro Endura" print / contrasting colors / bright highlights / Aluminum back plate
Description
Print and Porsche Modern Art
Here is a nice Porsche Modern Art. Here is our latest creation, ready for the summer with those splendid colours! With this new Art Creation based on a Porsche Carrera RS I wanted to propose you something with lots of colours! So at first, it was a photograph based on the Porsche Emblem on the wheel of the car, with, in background, the "Carrera" inscription.
I've decided to decline this photograph in 9 copies in one image. So 9 pictures and 9 flashy colours.
About the material, we choose an printing on brushed aluminium. It is clean and modern. The funny thing with this one is that light/white colours are not printed and it is the brushed aluminium that take place instead of the white. The other thing is that the colours changes depending to the light.
This Porsche Modern Art will decorate your wall perfectly.
Work Title: "Carrera Colours"
*this photograph is available in limited edition for the acrylic and aluminium printing only.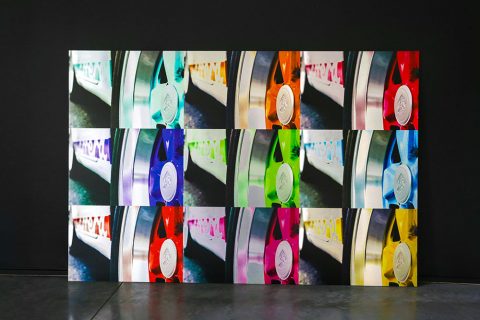 Visit the online shop