Porsche Cayman GT4 Photograph
Finishes
Photo printing + Acrylic glass
Acrylic glass, glossy, 2 mm / Brand photo paper & permanently elastic silicone / Stable aluminum Dibond back panel
Printing on alu Dibond
Matte surface / Polyethylene core
Rear of aluminum plate
Canvas Print
Linen structure
Matte surface
Real Photo Print on aluminum Dibond
"Kodak Pro Endura" print / contrasting colors / bright highlights / Aluminum back plate
Description
Prints and Porsche Cayman GT4 Photograph
Here is a nice Porsche Cayman GT4 Photograph. The most of the photographs we propose to you at Cars and Roses are pictures made during car events. This time I had a private shooting of a Cayman GT4 Porsche. It was at a place in Brussels.
Generally, pictures made during private shootings are intended for the car owner only. I couldn't resist to ask If I could have is authorisation to use this picture on my Cars and Roses e-shop. He said "yes".
First, the photograph was made a sunday morning; The weather was not good when I left home, I was afraid of the rain. Finally, when I arrived at the meeting point the sky was cloudy only, no more rain. The luminosity was perfect for the shooting.
Secondly, by seeing the result of the photograph, it seems that it was everything I was attempting for. A well placed car, in the center of the building, no people and to crown it all, a sky full of darkness.
To conclude, I like the contrast between a brand new sport car and the old building of Brussels.
This Porsche Cayman GT4 Photograph will decorate your wall perfectly.
*this photograph is available in limited edition for the acrylic and aluminium printing only.
Work Title
: "
Brussels GT4
"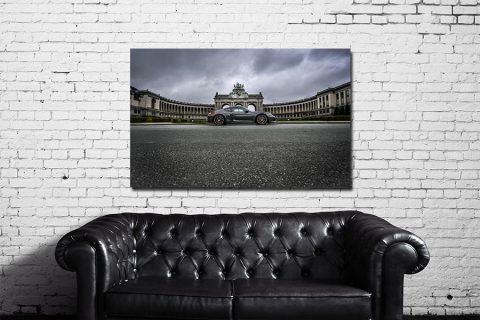 Visit the online shop