Porsche 944 Photo Ghost Town
Finishes
Photo printing + Acrylic glass
Acrylic glass, glossy, 2 mm / Brand photo paper & permanently elastic silicone / Stable aluminum Dibond back panel
Printing on alu Dibond
Matte surface / Polyethylene core
Rear of aluminum plate
Canvas Print
Linen structure
Matte surface
Real Photo Print on aluminum Dibond
"Kodak Pro Endura" print / contrasting colors / bright highlights / Aluminum back plate
Description
Print and Porsche 944 Photo
Here is a superb Porsche 944 Photo available in limited edition. This one will give the touch of black and white that it takes for your interior!
A little more informations on the Porsche 944 Photo
First, be aware that this was not the first time we were in Doel. As a reminder, this city is a ghost town. It is located near Antwerp, not far from the Doel nuclear power plant. It is a small village which does not pay a mine, it is almost inhabited, it remains only 4 or 5 inhabitants. In other words, the city is deserted.
Also, I love going there because the decor is amazing for me. To match an old car with a dilapidated frame is rather cool.
Secondly, I was a little skeptical before the day before the shooting because the weather was not with us. But finally, we are lucky, the rain fell on us once we left! So I went back to Doel this time at the request of a friend who wanted to have some photographs of his BMW E30 of 89. So I also jumped on the opportunity to take a Porsche 944.
We also made a few shots of the two cars together. These will follow afterwards. It was a great assembly!
To finish, after having turned in the few streets of the city, we found the ideal place to photograph the Porsche 944. I really like "the whole" of this image. The dilapidated buildings, the tags on the walls, the dead tree and also in the foreground, the pedestrian crossing.
This Porsche 944 Photo will perfectly decorate your wall. The photograph is printed at 200 copies, by size and medium.
*this photograph is available in limited edition for the acrylic and aluminium printing only.
Work Title: "Doel 944"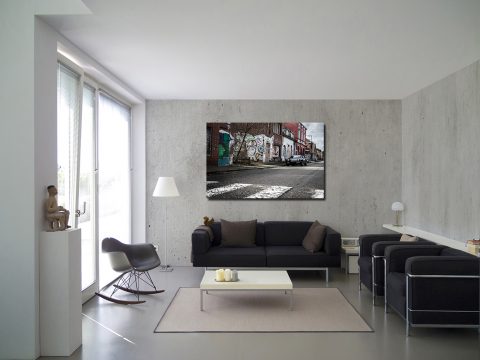 Visit the online shop