Porsche 935 Photograph
Finishes
Photo printing + Acrylic glass
Acrylic glass, glossy, 2 mm / Brand photo paper & permanently elastic silicone / Stable aluminum Dibond back panel
Printing on alu Dibond
Matte surface / Polyethylene core
Rear of aluminum plate
Canvas Print
Linen structure
Matte surface
Real Photo Print on aluminum Dibond
"Kodak Pro Endura" print / contrasting colors / bright highlights / Aluminum back plate
Description
Porsche 935 Photograph
Here is a Porsche 935 photograph taken during the Spa Classic 2018 held at the Spa Francorchamps circuit. The Porsche 935 was actually manufactured by Porsche in the late '70s because the manufacturer wanted a car to compete in the Silhouette World Championship.
To begin, it was produced from 1976 to 1981. The car is a propultion equipped with a flat 6 "flat 6 engine of 3.0L offering the Porsche 935 a power of 600 horses.
For the people who knows, it was in 1978 that Porsche modified its 935. The manufacturer offers him a new aluminum chassis and two tubes, propelling the car to 850 horsepower, the famous "Moby Dick" …
Finally, it was in 1979 that the Porsche 935 won its first 24 Hours of Le Mans. The car was driven by the "Kremer Racing" team.
To finish, the Porsche 935 counts 7 victories in races of 24H.
Work Title: « Red 935 »
* This image is sold as a limited edition only for prints on acrylic and aluminum.
*this photograph is available in limited edition for the acrylic and aluminium printing only.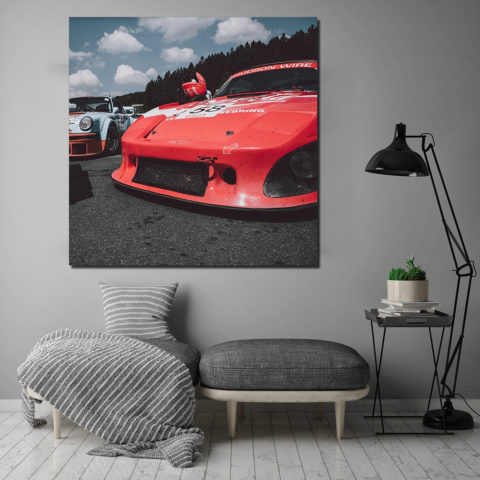 Visit the online shop