Porsche 911 Classic Art
Finishes
Photo printing + Acrylic glass
Acrylic glass, glossy, 2 mm / Brand photo paper & permanently elastic silicone / Stable aluminum Dibond back panel
Printing on alu Dibond
Matte surface / Polyethylene core
Rear of aluminum plate
Canvas Print
Linen structure
Matte surface
Real Photo Print on aluminum Dibond
"Kodak Pro Endura" print / contrasting colors / bright highlights / Aluminum back plate
Description
Print and Porsche 911 Classic Art
Here is a nice Porsche 911 Classic Art. Here is a new artistic creation from Cars and Roses. The conception of this Art print is based on the brushed aluminium. As you know, or you don't, white is not printed when you choose a print on brushed aluminium, so this was all about that! The original photograph is the back of a Classic 911 Porsche. We've decided to work on the image to only show the lines of the car, in black. So the rest of the image is white and won't be printed, the brushed aluminium will be present instead of the white!. This Porsche 911 Classic Art will decorate your wall perfectly.
Work Title: "911 Lines"
*this photograph is available in limited edition for the acrylic and aluminium printing only.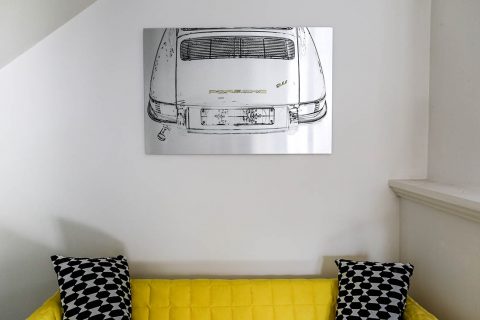 Visit the online shop