Photo Old Porsche Carrera RS
Finishes
Photo printing + Acrylic glass
Acrylic glass, glossy, 2 mm / Brand photo paper & permanently elastic silicone / Stable aluminum Dibond back panel
Printing on alu Dibond
Matte surface / Polyethylene core
Rear of aluminum plate
Canvas Print
Linen structure
Matte surface
Real Photo Print on aluminum Dibond
"Kodak Pro Endura" print / contrasting colors / bright highlights / Aluminum back plate
Description
Photo Old Porsche Carrera RS
Here is a beautiful photo ancestor Porsche Carrera RS. The image here is a beautiful Carrera RS rolling … We managed to freeze this car and have a moving background in the background. This Porsche model is a 2.7L, produced in from 1972.
It is a car quite appreciated by the purists. So much appreciated that there has been a lot of replica of this "duck tail" model.
The car was limited to 1590 copies, a rare jewel in the world of cars! Technical point of view, the car is equipped with a 6-cylinder engine developing 210 horses.
Finally, you should know that this Porsche 911 Carrera RS was "THE" sports car at the time.
Finally, this photograph is limited to 200 copies per printing and per size and only printed under acrylic glass and aluminum. 
Work Title: "RS Autumn Tones"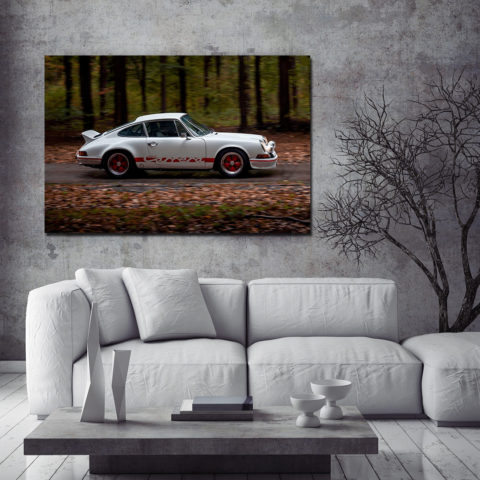 Visit the online shop