Old Ferrari Photograph
Finishes
Photo printing + Acrylic glass
Acrylic glass, glossy, 2 mm / Brand photo paper & permanently elastic silicone / Stable aluminum Dibond back panel
Printing on alu Dibond
Matte surface / Polyethylene core
Rear of aluminum plate
Canvas Print
Linen structure
Matte surface
Real Photo Print on aluminum Dibond
"Kodak Pro Endura" print / contrasting colors / bright highlights / Aluminum back plate
Description
Prints and Old Ferrari Photograph
Here is a nice Old Ferrari Photograph. This one will give a nice "vintage" touch to your interior.
More informations about this Old Ferrari Photograph
First, I found this photograph in my file "Pebble Beach". Indeed, I went to the contest of elegance last year. I was completely missed this image because on my return from the USA, I had another vision on my photos than the one I have now.
Secondly, be aware that we always have a favorite on some photos when we take them. We only look after others. So here is a great photograph of a Ferrari 412s. The idea here was to have in the plane, the dash and the steering wheel, as well as this "rounding" at the rear, typical of the car.
To finish, I wished to work this image in order to give it a slightly older stamp, working on rather warm colors.
This Old Ferrari Photograph will decorate your wall perfectly.
*this photograph is available in limited edition for the acrylic and aluminium printing only.
Work Title: "412s Ferrari Old Style"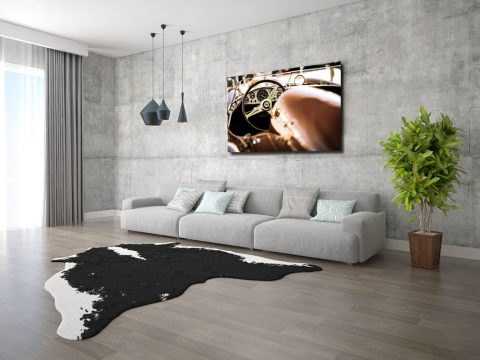 Visit the online shop