Old Carrera RS Photograph
Finishes
Photo printing + Acrylic glass
Acrylic glass, glossy, 2 mm / Brand photo paper & permanently elastic silicone / Stable aluminum Dibond back panel
Printing on alu Dibond
Matte surface / Polyethylene core
Rear of aluminum plate
Canvas Print
Linen structure
Matte surface
Real Photo Print on aluminum Dibond
"Kodak Pro Endura" print / contrasting colors / bright highlights / Aluminum back plate
Description
Old Carrera RS Photograph
Here is a beautiful Old Carrera RS Photograph

.This photograph was taken during a car rally at the Jemeppe castle.

We reworked this black and white image and brought out the Carreras red strip and the rear light to give it an original touch.

Finally, thanks to these color tones, the Old Porsche Carrera RS Photo will give a "Black and White" touch to your interior.
Work Title: «Carrera RS Red Touch»
* This image is sold as a limited edition only for prints on acrylic and aluminum.
*this photograph is available in limited edition for the acrylic and aluminium printing only.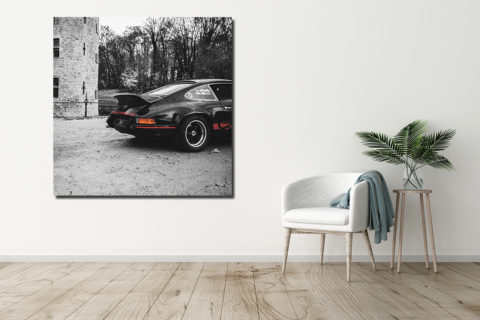 Visit the online shop