Old BMW Photograph
Finishes
Photo printing + Acrylic glass
Acrylic glass, glossy, 2 mm / Brand photo paper & permanently elastic silicone / Stable aluminum Dibond back panel
Printing on alu Dibond
Matte surface / Polyethylene core
Rear of aluminum plate
Canvas Print
Linen structure
Matte surface
Real Photo Print on aluminum Dibond
"Kodak Pro Endura" print / contrasting colors / bright highlights / Aluminum back plate
Description
Photograph and BMW 3.0 CSL Decorative Wall Print
Here is a superb old BMW photograph. I took this picture during an event devoted to classic cars in France. More commonly known as "Le Mans Classic".
First, apart from the cars displayed in the paddocks, it was possible to walk in all the car parks in the circuit. The indoor parking was indeed reserved only for people with an ancestor.
Secondly, there was an area reserved for the BMW and this is where I was able to photograph this beautiful trio.
To finish, I wanted to put my key on this image. So I decided to pass the image in black and white and to bring out only the colors "M" on the BMW CSL as well as the orange of the headlights on the other two cars.
This old BMW Photography will perfectly decorate your wall. The photograph is printed at 200 copies, by size and support.
*this photograph is available in limited edition for the acrylic and aluminium printing only.
Work Title: "BMW's 3.0"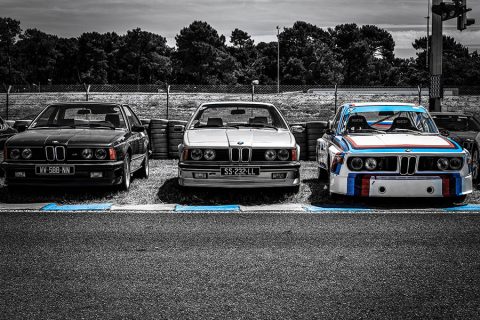 Visit the online shop