Old 911 Porsche Photo
Finishes
Photo printing + Acrylic glass
Acrylic glass, glossy, 2 mm / Brand photo paper & permanently elastic silicone / Stable aluminum Dibond back panel
Printing on alu Dibond
Matte surface / Polyethylene core
Rear of aluminum plate
Canvas Print
Linen structure
Matte surface
Real Photo Print on aluminum Dibond
"Kodak Pro Endura" print / contrasting colors / bright highlights / Aluminum back plate
Description
Print and Old 911 Porsche Photo
Here is a nice Old 911 Porsche Photo available in limited edition.
More informations about the Old 911 Porsche Photo
First, I photographed this old Porsche 911 with in the background a second white 911 during a rally in Belgium organized by the team of Toproad in the region of Rochefort.
Secondly, you will see below that I wanted to name this photograph "Years Ago". Indeed, this picture spoke to me pretty well when I started working on it. The first thing I said to myself is that I wanted to give it an old side. So in order to work on the "age of the image" I decided to put the picture in black and white and give it a slight touch of beige so that we can find this old side, style: The old image found in the depths of a drawer years later.
To conclude, I also find that the effect of the road between the tree-lane marries rather well with the context and the style given to this photograph.
This Old 911 Porsche Photo will perfectly decorate your wall. The photograph is printed at 200 copies, by size and medium.
*this photograph is available in limited edition for the acrylic and aluminium printing only.
Work Title: "Years Ago"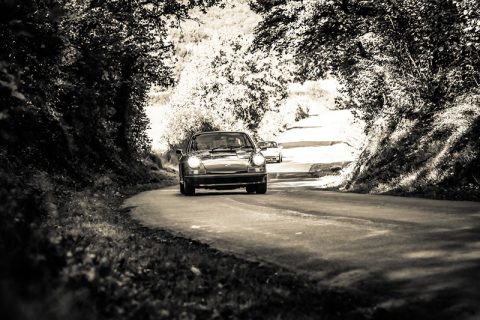 Visit the online shop