Modern Car Print GT4 Porsche
Finishes
Photo printing + Acrylic glass
Acrylic glass, glossy, 2 mm / Brand photo paper & permanently elastic silicone / Stable aluminum Dibond back panel
Printing on alu Dibond
Matte surface / Polyethylene core
Rear of aluminum plate
Canvas Print
Linen structure
Matte surface
Real Photo Print on aluminum Dibond
"Kodak Pro Endura" print / contrasting colors / bright highlights / Aluminum back plate
Description
Photograph and Modern Car Print GT4 Porsche
Here is a nice Modern Car Print GT4 Porsche. We had the chance to spend a day driving this amazing red GT4 Porsche. We've tested this car on a French race track, "Croix-en-Ternois" This day was just amazing, the car goes heaven, stays on the road, nice stability and got a lot of HP ;). Well, I'm not here to talk to you about the stats of the car. We i'm invited to try cars, I cannot just go out without my camera because I know that there is always something to capture! and indeed, look at this incredible picture! The Cayman GT4 was parked at the start of the road so I took my camera to capture the back of the red car in foreground, and as you can see we have a beautiful depth with the race track on the background. At this part of the day, the sky was a bit cloudy so it was interesting for me to play with the color of the car and the darkness of the sky! This Modern Car Print GT4 Porsche will decorate your wall perfectly.
Work title: "Red GT4"
*this photograph is available in limited edition for the acrylic and aluminium printing only.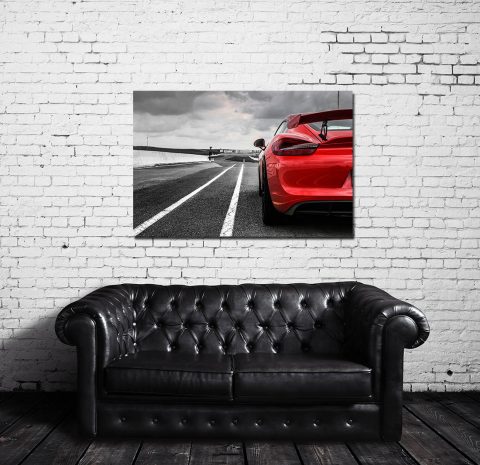 Visit the online shop