Ford Shelby Daytona Photograph
Finishes
Photo printing + Acrylic glass
Acrylic glass, glossy, 2 mm / Brand photo paper & permanently elastic silicone / Stable aluminum Dibond back panel
Printing on alu Dibond
Matte surface / Polyethylene core
Rear of aluminum plate
Canvas Print
Linen structure
Matte surface
Real Photo Print on aluminum Dibond
"Kodak Pro Endura" print / contrasting colors / bright highlights / Aluminum back plate
Description
Prints and Ford Shelby Daytona Photograph
Here is a superb Ford Shelby Daytona Photograph. I photographed these two cars during the 6h Classic of Spa Francorschamps.
More informations about the Ford Shelby Daytona Photograph
First, we were walking in the lane pits of the circuit when they were open to the public, just before the start of the 6 hours.
Second, we spotted these two Americans in a box and I thought the shooting was quite interesting; Take in profile this beautiful replica of a Ford Shelby Daytona with the back of the De Tomaso Pantera.
Finally, to give a little "Old School" side to photography, I decided to put it in black and white in order to age a bit the image to associate it with these two American ancestors.
This Ford Shelby Daytona Photograph will decorate your wall perfectly.
*this photograph is available in limited edition for the acrylic and aluminium printing only.
Work Title: "Daytona or Pantera?"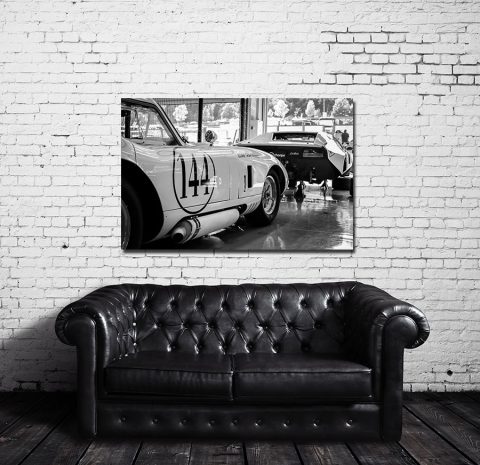 Visit the online shop