Ford Mustang Photograph in New York
Finishes
Photo printing + Acrylic glass
Acrylic glass, glossy, 2 mm / Brand photo paper & permanently elastic silicone / Stable aluminum Dibond back panel
Printing on alu Dibond
Matte surface / Polyethylene core
Rear of aluminum plate
Canvas Print
Linen structure
Matte surface
Real Photo Print on aluminum Dibond
"Kodak Pro Endura" print / contrasting colors / bright highlights / Aluminum back plate
Description
Prints and Ford Mustang Photograph in New York
Here is a superb Ford Mustang Photograph in New York. I took this picture during a city trip in New York
More informations about the Ford Mustang Photograph in New York
First, I was not in the trip "car photography" on my way to New York. I had as a project to make pictures of the city in order to feed my new site Maximandroses.com.
Second, we strolled down the street to Times Square and walked past that old Ford Mustang Red, quite dingy I have to say. I obviously could not help but photograph it in order to have one more for Cars and Roses.
To finish, I decided to accentuate the red of the car and to attenuate the back of the scenery in order to bring out the image.
This Ford Mustang Photograph in New York will perfectly decorate your wall. The photograph is printed at 200 copies, by size and support. Let your passion invade your walls. 
*this photograph is available in limited edition for the acrylic and aluminium printing only.
Work Title: "N.Y. Mustang"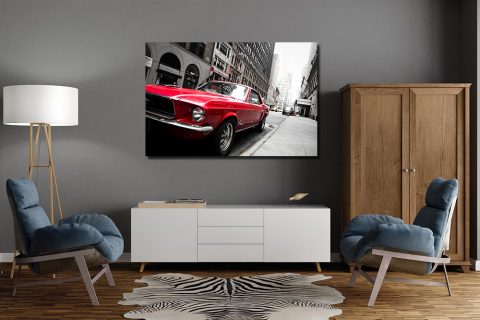 Visit the online shop