Ferrari F40 Photograph
Finishes
Photo printing + Acrylic glass
Acrylic glass, glossy, 2 mm / Brand photo paper & permanently elastic silicone / Stable aluminum Dibond back panel
Printing on alu Dibond
Matte surface / Polyethylene core
Rear of aluminum plate
Canvas Print
Linen structure
Matte surface
Real Photo Print on aluminum Dibond
"Kodak Pro Endura" print / contrasting colors / bright highlights / Aluminum back plate
Description
Ferrari F40 Photograph
Ferrari / F40
Here is a photograph of a beautiful Ferrari F40.
First, This photograph was taken during the Spa Classic 2018, organized at the Spa Francorchamps circuit.

To Begin, the F40 was produced from 1987 to 1992. It is actually the car created after the Ferrari 288 GTO. It is one of the most expensive cars in history. It combines beauty, speed, power and elegance. In 2015, the Ferrari F40 was worth more than one million euros.
Then, FYI, Enzo Ferrari basically wanted to limit production to 400 copies, but, the cars sold like hotcakes. The production has therefore increased to 1000, ending with 1311 copies. The year after the end of production of the F40, Enzo Ferrari dies, the price of this beautiful beast was ignited!
To conclude, here are some technical informations: The Ferrari F40 is equipped with a 2.9L V8 twin turbo engine, weighs 1088 kg and is 0 to 100 km / h in 3.9 seconds. It has a 5-speed manual transmission. The Ferrari F40 Photograph will perfectly decorate your interior.
This photograph is limited to 200 copies per printing and per size and only printed under acrylic glass and aluminum. 
Work Title: "Red F40"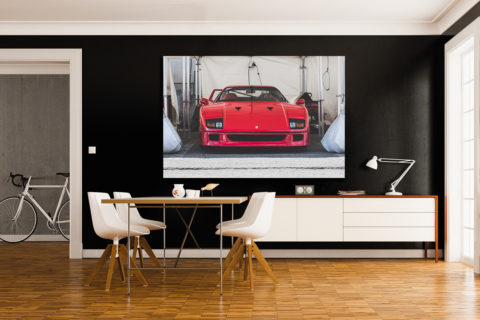 Visit the online shop