Deco wall prints Ford Mustang
Finishes
Photo printing + Acrylic glass
Acrylic glass, glossy, 2 mm / Brand photo paper & permanently elastic silicone / Stable aluminum Dibond back panel
Printing on alu Dibond
Matte surface / Polyethylene core
Rear of aluminum plate
Canvas Print
Linen structure
Matte surface
Real Photo Print on aluminum Dibond
"Kodak Pro Endura" print / contrasting colors / bright highlights / Aluminum back plate
Description
Photographs and Deco wall prints Ford Mustang
Here is a nice Deco wall prints Ford Mustang. Here is a nice photograph of a GT 350 Ford Mustang I took at the Laguna Seca during the Rolex Monterey Classic last year. Can't wait to go back there! I love this kind of event with Classic Cars because people there are only passionates guys and between passionate, owners are not afraid of people coming to watch their cars because they know that they respect the thing. So everybody's smiling and enjoying their day. The second thing I like there, t is that cars and not "parked" in private boxes, they are just there, in raws. That's what I like with this photograph. At first, it is juste a "simple" GT350 parked. But there, the owner was doing technical rectification on his car, hood open, no tire and everything. and that makes this photograph amazing.
Finally, I love colour touch in a black and white image so that's why I've decided to remove all the colours and to leave the red only!
This Deco wall prints Ford Mustang will decorate your wall perfectly.
*this photograph is available in limited edition for the acrylic and aluminium printing only.
Work Title: "Red GT350"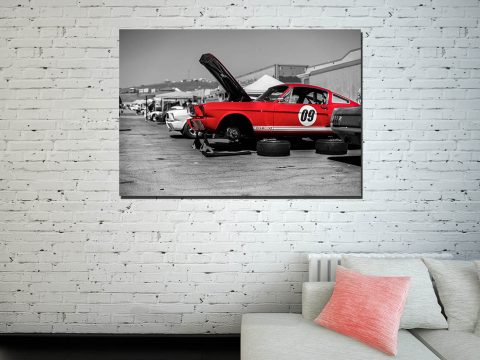 Visit the online shop