Chevrolet Corvette Wall Print
Finishes
Photo printing + Acrylic glass
Acrylic glass, glossy, 2 mm / Brand photo paper & permanently elastic silicone / Stable aluminum Dibond back panel
Printing on alu Dibond
Matte surface / Polyethylene core
Rear of aluminum plate
Canvas Print
Linen structure
Matte surface
Real Photo Print on aluminum Dibond
"Kodak Pro Endura" print / contrasting colors / bright highlights / Aluminum back plate
Description
Photograph and Chevrolet Corvette Wall Print
Here is a nice Chevrolet Corvette Wall Print.
We were last week at Le Mans to enjoy the wonderful race « Le Mans Classic » at the « Circuit de la Sarthe ». It was hard for us to be at this event because we had some troubles with our car on Sunday Morning. So unfortunatly we arrived in the begining of the afternoon at Le Mans Classic so we had not a lot of time to shoot cars.
Lucky us, we met this amazing silver Chevrolet Corvette from 1964 after watching some old cars in the paddocks. So if was not a bad day at the end. I love this photograph because there are a lot of lights on the wheels.
This Chevrolet Corvette Wall Print will decorate your wall perfectly.
*this photograph is available in limited edition for the acrylic and aluminium printing only.
Work Title: "Silver Chevy C."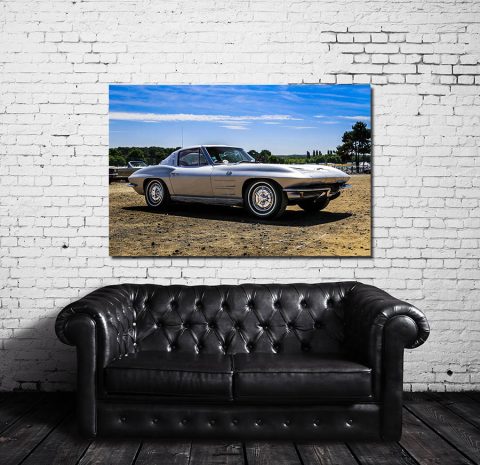 Visit the online shop