Car Pop Art Porsche 911
Our photographs, canvas, posters, prints, car prints, XXL Prints and Car Art are available printed on canvas, acrylic glass and aluminium dibond. You may configure the size and the desired support down here. Decorate you walls with Cars and Roses.
Description
Prints and Car Pop Art Porsche 911
Here is a nice Car Pop Art Porsche 911. It is a recomposition of four pictures of a Porsche 911 Carrera RS. The first photograph is a big zoom on the headlights, with a touche of yellow and orange colour. Second one is the steering wheel with the Porsche logo in colour. it is not an original steering wheel but a race one? Third picture is a zoom on the "Carrera' band on the bottom of the door + the wheel, in red. And the last one is the famous "duck" back of the Porsche Carrera RS! This one is available printed behind acrylic glass and on brushed aluminium. I personally love the brushed aluminium printing method because it gives some reflect to the picture and the whites are not printed, this is the aluminium that's showed to remplace it. The acrylic glass will just make the colours super powerful. This Car Pop Art Porsche 911 will decorate your wall perfectly.
*this photograph is available printed behind acrylic glass in limited edition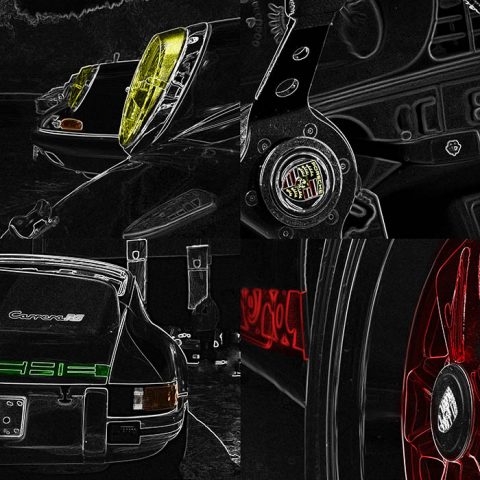 Visit the online shop