BMW E30 Photograph at Doel
Finishes
Photo printing + Acrylic glass
Acrylic glass, glossy, 2 mm / Brand photo paper & permanently elastic silicone / Stable aluminum Dibond back panel
Printing on alu Dibond
Matte surface / Polyethylene core
Rear of aluminum plate
Canvas Print
Linen structure
Matte surface
Real Photo Print on aluminum Dibond
"Kodak Pro Endura" print / contrasting colors / bright highlights / Aluminum back plate
Description
Print and BMW E30 Photograph at Doel
Here is a superb BMW E30 Photograph available in limited edition. This one will give an old school touch to your interior!
A little more informations on BMW E30 Photograph
Here we are back in Doel with this superb BMW E30 80 '. We made this trip to the ghost town with a Porsche 944 to accompany the other German.
First, it was not our first time in this desert place, we already knew the best spots photos. After a few shooting sessions in the alleys, we ended up with this great place to photograph the cars.
Secondly, So here we are in this old garage with the beautiful BWM E30. As you can see from the photo, the place is run down, filled with tags, debris. The garage was squatted.
To finish, the idea of ​​the garage was to put this old BMW in a space of this kind in order to play on the contrasts. In addition, I find that a garage in ruins plus an old car gives a rather nice result.
In addition, we have made other shots of the E30 and the Porsche 944 that you can find on our page instagram cnr_maxime
This BMW E30 Photograph will perfectly decorate your wall. The photograph is printed at 200 copies, by size and medium.
*this photograph is available in limited edition for the acrylic and aluminium printing only.
Work Title: "E30 in a Dirty Garage"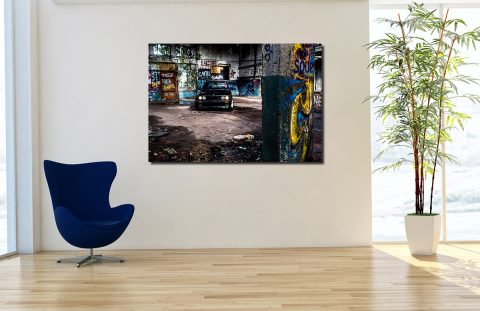 Visit the online shop