Batmobile BMW Car Print
Finishes
Photo printing + Acrylic glass
Acrylic glass, glossy, 2 mm / Brand photo paper & permanently elastic silicone / Stable aluminum Dibond back panel
Printing on alu Dibond
Matte surface / Polyethylene core
Rear of aluminum plate
Canvas Print
Linen structure
Matte surface
Real Photo Print on aluminum Dibond
"Kodak Pro Endura" print / contrasting colors / bright highlights / Aluminum back plate
Description
Photograph and Batmobile BMW Car Print
Here is a superb Batmobile BMW Car Print. I took this picture during an exhibition dedicated to the BMW.
First, I love this car. Style, elegance, perfect curves and to crown all its aggressive side that makes it right.
Secondly, in addition to its perfect aesthetic side, the color line "M" gives it a superb touch.
Finally, some technical information in relation to this machine; A six-cylinder engine to bring 206 horsepower to the car. It was produced from 1974 to 1978.
This Batmobile BMW Car Print will perfectly decorate your wall. The photograph is printed at 200 copies, by size and support. Let your passion invade your walls. 
*this photograph is available in limited edition for the acrylic and aluminium printing only.
Work Title: "Batmobile 3.0"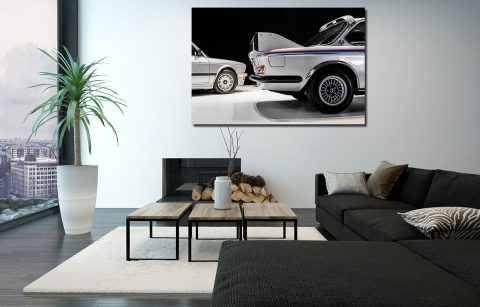 Visit the online shop