944 Porsche Wall Photo
Finishes
Photo printing + Acrylic glass
Acrylic glass, glossy, 2 mm / Brand photo paper & permanently elastic silicone / Stable aluminum Dibond back panel
Printing on alu Dibond
Matte surface / Polyethylene core
Rear of aluminum plate
Canvas Print
Linen structure
Matte surface
Real Photo Print on aluminum Dibond
"Kodak Pro Endura" print / contrasting colors / bright highlights / Aluminum back plate
Description
Print and 944 Porsche Wall Photo
Here is a superb 944 Porsche Wall Photo available in limited edition. This one will give the touch of black and white that it takes for your interior!
A little more informations on the 944 Porsche Wall Photo
First, be aware that I love taking my car and going on a Sunday mop to find nice corners to make my car photo shootings. Being Belgian, I stroll in the Walloon Brabant. Arriving in this village, whose name I will not mention because most of the time I keep my places secret, I saw this beautiful alley next to an abbey! That was exactly where I had to take the Porsche 944. Maybe one day I'll unveil this place?

Second, as you can see below, I titled the work "Mist 944". Indeed, this day was very foggy, there was a lot of fog. Not to see at 2 meters in front of you. The atmosphere was great to do the photo shooting of this Porsche 944. You can see this fog in the driveway, just behind the car.
To finish, I decided to work on this Porsche photograph in black and white because it seemed to me that it was the best way to play on this luminosity that brought the light of day and the fog that passed over it.
This 944 Porsche Wall Photo will perfectly decorate your wall. The photograph is printed at 200 copies, by size and medium.
*this photograph is available in limited edition for the acrylic and aluminium printing only.
Work Title: "Mist 944"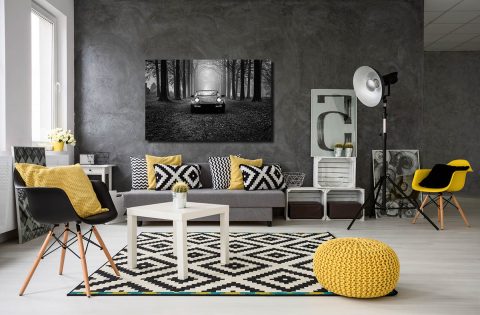 Visit the online shop