225 S Ferrari Spyder Photograph
Finishes
Photo printing + Acrylic glass
Acrylic glass, glossy, 2 mm / Brand photo paper & permanently elastic silicone / Stable aluminum Dibond back panel
Printing on alu Dibond
Matte surface / Polyethylene core
Rear of aluminum plate
Canvas Print
Linen structure
Matte surface
Real Photo Print on aluminum Dibond
"Kodak Pro Endura" print / contrasting colors / bright highlights / Aluminum back plate
Description
Prints and 225 S Ferrari Spyder Photograph
Here is a nice 225 S Ferrari Spyder Photograph. This one will give a nice "vintage" touch to your interior.
More informations about this 225 S Ferrari Spyder Photograph
First, here is another small souvenir of Pebble Beach. Indeed, I found this photograph in my file. I had probably put this image aside at the time but I had not really lingered on it …
Second, I love the dashboards of cars. It is obvious that it is easier to recognize a car when seen from the outside and that one can analyze its shape and its curves but on the classic cars one can also recognize a car by its dashboard. At the time, these were really different from each other and each model had its own style.
Compared to the photograph, I wished, in addition to the view of the dashboard and the steering wheel, give a little depth by photographing a part of the rear cover. Moreover, thanks to this angle of view, one can clearly see that it is the convertible version "spyder" that is photographed.
To conclude, here is some information about the Ferrari 225 S Spyder. It is a model that was released in 1952. It is the intermediate car between the Ferrari 212 and the 250. This model was carrossé by Vignale. The 225 S arrives 2nd in the Tour of France automobile in 1952. Technical point of view, it is a motor 12 cylinders bringing at the time 210 horses.
This 225 S Ferrari Spyder Photograph will decorate your wall perfectly.
*this photograph is available in limited edition for the acrylic and aluminium printing only.
Work Title: "225 S Spyder Dashboard"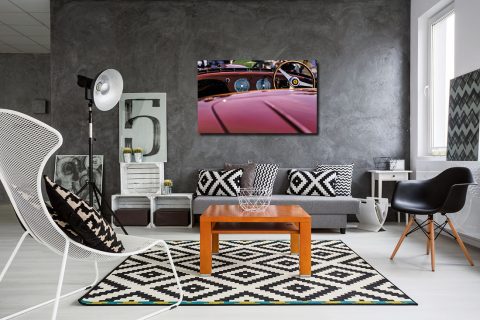 Visit the online shop